Me in short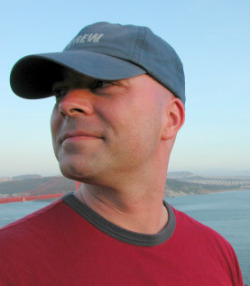 Stefan Johannes Walter Marti was born July 30th 1965 in Olten (Switzerland, Europe) from Helene and Johannes Rudolf Marti with grandparents Anni and Ernst Marti-Gschwind and Anna and Albert Klingler-Wegmann. I have lived most of my life in a house in a village nearby, Trimbach, until I came to the United States in Fall 1997.
I went to kindergarden and elementary school in Obergösgen and Trimbach, and to high school in Olten, all of these places are in Kanton Solothurn, which lies in the German speaking part of Switzerland.
In 1984, after 7 1/2 years, I graduated from high school (the diploma is called 'Matura'), in classical humanistic style, which includes Latin.
In Fall 1993, after 8 more years, I graduated from the University of Bern, Switzerland, with a Master's Degree in Special Psychology. My minors were Computer Science and Philosophy. (Here are the classes I have taken.) My thesis was about the psychological impacts of modern communication technologies on users, or in German "Psychologische Effekte beim Gebrauch moderner Kommunikationstechnologien" (PDF, 283 pages).
From 1984 to 1996, I was also working as a sound engineer, mixing live bands on tours all over Europe and recording music in sound studios, as well as a video editor. I think that of all the things I ever did in my life, Live Mixing is what I can do best: transforming audio signals into emotions and pure energy. That's an art, and I am very good at that. Music has always been important to me, so I have been playing in quite a few amateur bands as saxophonist, keyboarder, drummer, and bass player. (Listen to some of it: MP3 files.)
1996, I was technical director for a multi purpose multiple hall building, the Saalbau Aarau, Switzerland. (Here are my working hours at this place.)
1997, I was a video editor for the National Swiss TV station SF DRS in Zürich.
From Fall 1997 to Summer 2005, I was at the Media Lab, MIT, in Boston, as a graduate student with the Speech Interface Group. I have been working a lot with two-way pagers, my first project was called Knothole. Here are the classes I have taken.
I was AT&T Fellow 1998/99, and Motorola Fellow 1999/2000. This means, these companies support my funding here at the Lab, and I have a special connection to them.
In August 1999, I received my second Master's degree , this time in Media Arts and Sciences, with my project Active Messenger.
During summer 2000, I worked for IBM Tokyo Research Lab (Japan), where I was involved in making Aglets open source. That was my second stay in Tokyo, and I will post some cool pictures of this time soon.
I have passed my qualifying exam in February 2002, and my dissertation proposal was accepted in May 2004.
Between 2002 and 2005, I worked on the theory, implementation, and evaluation of my doctoral work, focusing on adding human-style social intelligence to mobile communication agents that are embodied both in the robotic and software domain. Finally, on April 19, 2005, I defended my dissertation at the Media Lab, and graduated from MIT on June 3, 2005, with a Ph.D. degree in Media Arts and Sciences. Yay! :-)
When I have time, I work on my other obsessions. One of them is autonomous micro helicopters. At MIT, I was part of the MIT Aerial Robotics team and the MIT Mars Airplane project. Both projects were discontinued, unfortunately. I am also very interested in adding an ethical dimension to autonomous agents (software and hardware), and have been since 1998 when I wrote about AMEAS, which stands for Autonomous Multi Ethical Awareness Systems. These days, it is called Machine Ethics. Some day, I will get back to these topics...
From 2005 to 2010, I worked for Samsung's central R&D lab SAIT (Samsung Advanced Institute of Technology). SAIT is in Seoul (Korea), but I am located in San Jose (California), at Samsung's R&D Center in Silicon Valley. I was Principal Engineer and lead the HCI team of the computer science lab, and worked on various HCI innovations, such as how to interact with 3D content on a mobile device. My patent applications can give more details.
Since 2011, I am with Palm (a business unit of HP) in Sunnyvale. I am Director of Future Concepts and Prototyping, and am involved in roadmaps and prototypes for future Palm products.
If you want, please check out my ultrashort resume! ;-) If you want to know more about my real work, go to my research page.


---
Go back to my homepage, or to the:
Table of contents of this homepage. What I want to put up here.
Most recent additions. If you just want to know what's new here.
Send me some comments!

Last updated February 2, 2011.

Copyright © 1997 - 2009 by Stefan Marti and MIT Media Lab. All rights reserved.