Music
Kris Thórisson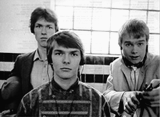 Sonus Futurae
I co-founded Sonus Futurae in my late teens (that's me in the front - yep, the dorky one). Sonus Futurae (Latin for "sound of the future") was the first "synthesizer band" in Iceland. We made Iceland's first music video, appropriately titled "Myndbandid" ("Video"), and recorded the first "all-synth" LP (this was before CDs).
After we split up I played the Chapman Stick for a while with the rock band Hunangstunglid. We were a warm-up band for Boy George and the Blow Monkeys (never heard of them--well, you must be of another generation).
---

My (selected) Discography
---

[ Back to Thórisson's home page ]
---
Copyright 1995 K.R.Th. All rights reserved.