The cellular squirrel screens your calls (yes, we said squirrel).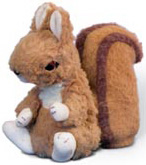 We love the concept behind this device — to screen your cellphone calls for importance while you're busy chatting up someone else — we just have no idea why it involves a squirrel. MIT's Stefan Marti has developed the Bluetooth, animatronic, context-aware Cellular Squirrel as part of his dissertation project — when it picks up an incoming call, it actually engages the remote caller in a conversation and compares keywords from the interaction to keywords picked up from the conversation you're having nearby. It combines this data with your contact list and the caller's tone of voice to determine whether the call is important enough to interrupt you. Yeah, we laugh at it, but we secretly want one, because to get your attention it gyrates its body in that animatronic way that makes us feel kinda funny. We've installed a fleet of 20 in the Engadget call center.

[Via Mobile burn]
Recent Entries
» Nextel finally releasing the Motorola i930? (9/18/2005)
» BlackBerry 8700 live shot (9/18/2005)
» Engadget Japanese at Tokyo Game Show (9/18/2005)
» The week in Engadget (9/18/2005)
» MonsterNet gets hands-on with the Creative Zen Vision (9/17/2005)


(Add your comments)
Reader Comments
Add your comments
Please keep your comments relevant to this blog entry: inappropriate or purely promotional comments may be removed. Email addresses are required to confirm your comments. To create a live link, simply type the URL (including http://) or email address and we will make it a live link for you. You can put up to 3 URLs in your comments. Line breaks and paragraphs are automatically converted — no need to use <p> or <br> tags.