The Cellular Squirrel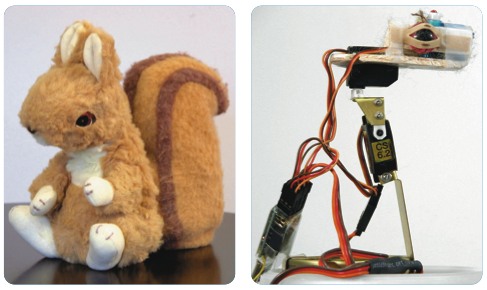 When your cell phone rings this little robot squirrel (depending if you're there) will answer the phone, forward it, or take a message. The Maker, Stefan Marti writes -
"Current mobile communication devices do not grab our attention in a socially appropriate way. They could be disrespectful of ongoing social activity such as an important meeting or private dinner. To improve on this, I have built the Cellular Squirrel, a system where the agent that controls my cellphone is embodied in a small portable animatronic device, as a personal 'companion' for the user."
[
via
]
Link.
Posted by Phillip Torrone | 11:10 AM
Cellphones, Electronics, Robotics | Permalink | Comments (0)
Recent Entries
<! -- end id="commlist" -->
Bloggers
Welcome to the Make Blog. You'll find all the most up to date happenings in the Maker and Crafts world here.

Phillip Torrone
Make Blog Dude


Natalie Zee
Crafts Chica

Current Podcast

MAKE VIDEO PODCAST - Soda Bottle Rocket (video) In MAKE 05, we show you how to make your own soda bottle rocket so you can start your own rocket program even if you're not Burt Rutan. With a few empty soda bottles and some PVC pipe, you can build a high-performance water rocket. Here's a video of author Steve Lodefink and his 4-year-old son Ivan launching theirs. Click here to get the video delivered automatically with iTunes. This video (MP4) will play on PC/Mac/Linux/PSPs and iPod video devices.
Recent Crafts
Categories
Archives
Recent Posts











---