The Cellular Squirrel
Stefan Marti of the MIT Media Lab's Speech Interface Group has solved all your cellphone-related social dilemmas by building a very polite squirrel.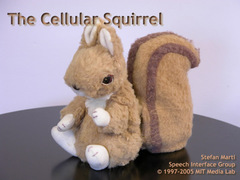 Current mobile communication devices do not grab our attention in a socially appropriate way. They could be disrespectful of ongoing social activity such as an important meeting or private dinner. To improve on this, I have built the Cellular Squirrel, a system where the agent that controls my cellphone is embodied in a small portable animatronic device, as a personal 'companion' for the user. This embodiment is able to use the same subtle but still public non-verbal cues to get our attention and interrupt us like humans would do (like eye gaze and small gestures), instead of ringing or vibration.
We approve. (Via Make.)
February 16, 2006 | Permalink | Comments (0) | TrackBack (0)
I'm Really Sad
On Valentine's Day, Adorablog wants all its readers to be happy and full of love, so please direct your web-browsers to I'm Really Sad. Enjoy. Reload. Chase away the sadness!
(thanks to Andre the Bear!)
February 14, 2006 | Permalink | Comments (0) | TrackBack (0)
News about animals and animal-shaped things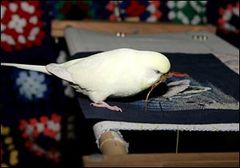 Petistic: A three-year-old budgie named Spike (pictured above) has allegedly learnt to sew.
Spike spent months watching her owner Sandra Battye creating patterns before picking up a needle in her beak herself. They are now birds of a feather and work on tweed and other fabrics together.
We can't help but wonder: has any animal been taught to knit? Could a bird knit a sweater for a penguin?
Make: Cats enjoy car rides! But only if you build a platform so they can watch the scenery comfortably.
Shiny Shiny: You could buy a teddy bear with a headphone jack and 128 mb of storage. Or you could just buy a regular teddy bear and stick an iPod Shuffle in it.
February 14, 2006 | Permalink | Comments (0) | TrackBack (0)
Someday everything will be available in sushi form
Tokyo Times: Sushi sandwiches! "...with the inclusion of a strawberries and cream dessert, it's a meal in itself – sort of."
I had something called "New York maki" once: it was smoked salmon, apples, and cream cheese, and that's not too far from being a sandwich.
I wonder how they keep the bread from unrolling.
February 13, 2006 | Permalink | Comments (0) | TrackBack (0)
Kermit in New York
Kermit took a vacation to New York with some people. Here are the photos. And here are some more.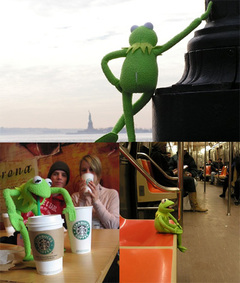 February 11, 2006 | Permalink | Comments (0) | TrackBack (0)
Someday everything will be made of Legos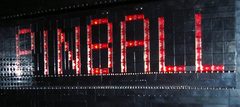 Obviously, the ball itself couldn't be made from lego blocks and a regular 1 1/16" steel pinball was just too heavy for the Lego motors, so a 1" glass ball was used as the main playing ball and a regular steel ball was used for the tilt mechanism. But the rest of the game is 99.99% pure Lego.
Last week, we saw Babbage's Difference Engine reconstructed in Lego. Now somebody's used Legos to make one of those newfangled pinball machines the kids like to play. It only accepts 50 cent Euro pieces. (Via Pootling.)
February 10, 2006 | Permalink | Comments (0) | TrackBack (0)
Is your fish bored with castles and little plants?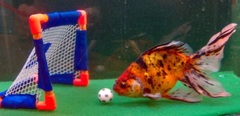 Albert plays soccer during recess from Fish School. Notice how he starts at half field, drives the ball towards the goal, shoots and scores. All without using hands OR feet - his head works just fine!
(Via Pixel y Dixel: "Si los osos son capaces de aprender a montar en moto y los elefántes jugar al fútbol, prepárate para enseñar a tus peces de colores todo tipo de trucos.")
February 10, 2006 | Permalink | Comments (0) | TrackBack (0)
Since sliced bread
Two indispensible products brought to our attention by the indispensible Better Living Through Design: puzzle cookie cutters (we'd like to see Muji get serious and produce a 100-piece version) and Bonsai In A Can. Of course.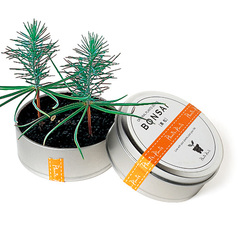 February 9, 2006 | Permalink | Comments (0) | TrackBack (0)
Beaver Project: Success!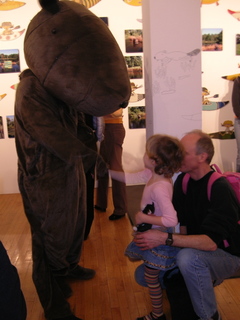 Shintaro Miyake (above, in big-headed beaver costume) put down his pencil a number of times to hug fauxhawked art students and shake hands with small children during the performance part of his first major U.S. show.
The girl with the striped socks held up her stuffed kitten and Miyake patted it on the head.
Another child repeatedly tried to place her hat on the Beaver.
The Beaver had a big flat tail that dragged on the floor. He screened a nature "documentary" about the process of building a lodge in Barre, Massachusetts: cutting branches, painting them yellow and orange and red, buying additional timber from a store, trying on waders at the Natick Outdoor Store, consuming a typical beaver meal of pancakes, bacon, and coffee at the IHOP, paddling in a canoe, and attempting to swim.
February 8, 2006 | Permalink | Comments (0) | TrackBack (0)
Fred the undercover cat
Story via AP, photos from Newsday:
NEW YORK (AP) — He came from the streets from Brooklyn, a cool customer on four legs, the perfect bait for a sting on a fake veterinarian.

Meet Fred, undercover kitten.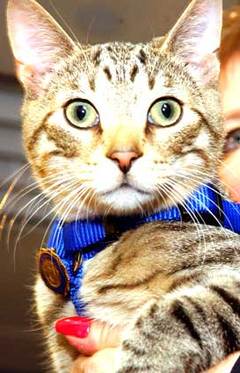 Authorities said on Wednesday they drafted Fred — an 8-month-old former stray adopted by a prosecutor — to pose as a would-be patient while investigating a man who allegedly treated an untold number of pets without a license.
Continue reading "Fred the undercover cat"
February 8, 2006 | Permalink | Comments (0) | TrackBack (0)
Gerald and his ears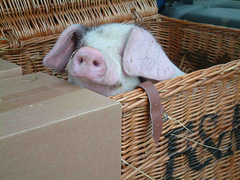 Zanypurr: "we had to collect Gerald from his birth home near Gloucester, and this was the biggest basket we had." Gerald has since grown up and had his own piglets. Some of them have fetching black spots.
February 8, 2006 | Permalink | Comments (0) | TrackBack (0)
Puppy vs. lion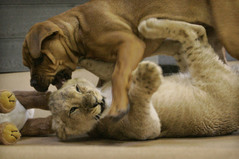 SignOnSanDiego, via Fark: The puppy wins, for now.
Continue reading "Puppy vs. lion"
February 3, 2006 | Permalink | Comments (3) | TrackBack (0)
Smaller but equally fluffy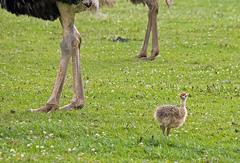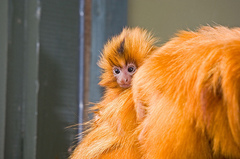 Baby ostrich and baby tamarin from Nick Lawes' wonderful set of animal photographs.
February 2, 2006 | Permalink | Comments (0) | TrackBack (0)
In otter news
WFAA: Three Asian small-clawed otters were born last Thursday at the Dallas Zoo.
"They're very social, very playful, as you can see, they're cute." [...] The parents are protective. [The father] tried to hide the birth with a wall of hay.
CBBC: Otters eating fish out of watermelons!
CBBC, three years ago so it's not actually news: Snowdrop the baby otter!!!!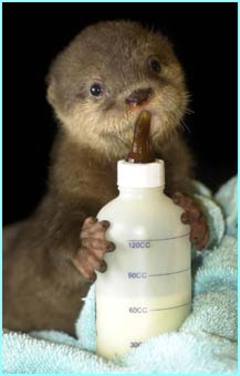 Kinston Free Press: The North Carolina Aquarium at Pine Knoll Shores would like suggestions for names for their two baby otters. They would like a connected pair of names that are one or two easily-pronounceable syllables, North Carolinian, and "suitable for males."
And the always-reliable Flickr: Baby otters, lazy otters, and otters in love.
February 2, 2006 | Permalink | Comments (2) | TrackBack (0)