Weird Yano Doll Head Hack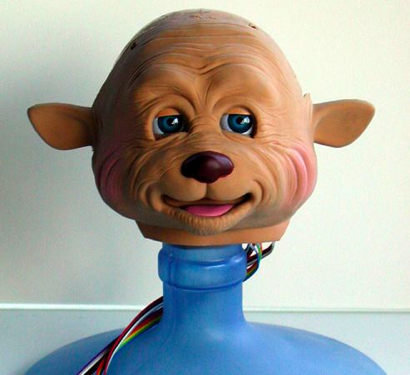 Chuck told me that he has a "Yano" doll coming to him in the mail to hack up and pointed me to this robotic hack of the doll. I postulate that it is the child of yoda and a gremlin.
The main focus of this project had to do with creating an easy method for controlling the head from a computer. We did not want to spend time designing and building our own robot. Instead, we decided to use the head of children's toy Yano, designed as an interactive storyteller. This toy head suited the needs of our project well because of its particularly expressive face. - Link
Posted by Bre | Jul 21, 2006 04:31 PM
How it's made | Permalink | Comments (1)
Recent Entries
<! -- end id="commlist" -->
Bloggers
Welcome to the Make Blog. You'll find all the most up to date happenings in the Maker and Crafts world here.

Phillip Torrone
Senior editor




MAKEbot
Add to Buddy list!


Natalie Zee
Crafts Maker




Bre Pettis
Media Maker

Current Podcast

Make Podcast: Weekend Projects Make A Kite Aerial Photography Rig For this weekend project, I've made a Kite Aerial Photography Rig (KAP). This was one of those projects that require remaking multiple times to get it so that it would fly. I started with a VEX robotics kit and... More...
Recent Crafts
Categories
Archives
Recent Posts
MAKERSs

Add MAKE
RSS/XML/Feed

Get MAKE via
IM - MAKEbot

MAKE
Forums

MAKE Forums -
RSS

MAKE @
Instructables

Add Instructables
RSS

Get MAKE @
iTunes

Add MAKE Podcast
RSS

Add MAKE -
RSS 2.0

Add MAKE -
RSS 1.0

Add MAKE -
Atom

MAKE
Flickr pool

Add MAKE Flickr pool
RSS

Add Flickr comments
RSS

Add Comments (print)
RSS

Bookmarks -
del.icio.us

Add del.icio.us
RSS

Get MAKE @
ODEO

MAKE @
GEO URL

Visit MAKE in
Second Life

MAKE @
Mobile Wink

Add MAKE to
Bloglines

Add MAKE to
Google

Add MAKE to
MyAOL

Add MAKE to
MyYahoo

Add MAKE to
Newsgator

Add MAKE to
Feedlounge

Add MAKE to
Pluck
Add MAKE to
Newsburst

Add MAKE to
Rojo

Add MAKE to
Kinja

Add MAKE to
Technorati

MAKE
favorites

Add MAKE
favorites RSS

MAKE via email
RSSfwd

MAKE via email
RMail

MAKE -
Technorati

MAKE Technorati
RSS

MAKE on
Digg

Add MAKE on Digg
RSS

MAKE in
Google news

MAKE Google news
RSS

MAKE press -
del.icio.us

MAKE press -
RSS

Get it all, MAKE -
OPML
---