MAS.863 How to make (almost) anything.
Assignment Sept 8, 1999: Create a new body organ for yourself.
Stefan Marti

The Zero-G Eye.
Idea
I want to have additional visual perspectives of my environment.

Currently, I am restricted through the position of my eyes in about what I actually see. If I would have an additional third eye that is not physically connected to my body, I would have the possibility to look at myself from above or from a perspective in front of me.
Realization
One or several small flying devices, very quiet and unobtrusive, less than 10 cm in diameter, which just hover constantly above me and follow me. They are speech controlled, so that I can tell them "Go higher," "Turn left" etc. They have small video cameras mounted on them and transmit this signal to my watch that has a built in LCD screen. The watch holds also a microphone. The speech is evaluated in the watch and the navigation signals are sent to the Zero-G eye.
Parts list
Watch mounted parts:

LCD monitor and video receiver
Microphone for voice control
Speech recognition module: translates natural language commands (relative commands) to absolute position commands, using fuzzy logic
Microprocessor that evaluates absolute position signals (6DOF) from vessels and sends back control signals for motor speed controllers. Necessary for navigation as well as stabilization of these inherently unstable objects

Free flying objects, diameter less than 10 cm, consisting of:

4 micro ducted fans (less effective than big rotors but also less dangerous)
4 brushless motors with electronic speed controllers. Two motors run clockwise, two counterclockwise. Like that, not cyclic pitch control of the blades is necessary. All rotational and translational movements are done by adjusting the motor speed.
Lithium polymer battery
Absolute position sensor: similar to very low range GPS, for navigation and stabilization
Micro camera
Wireless link to watch: video downstream, sensor downstream, speed controller signals upstream
---
Design study one: Donut UFO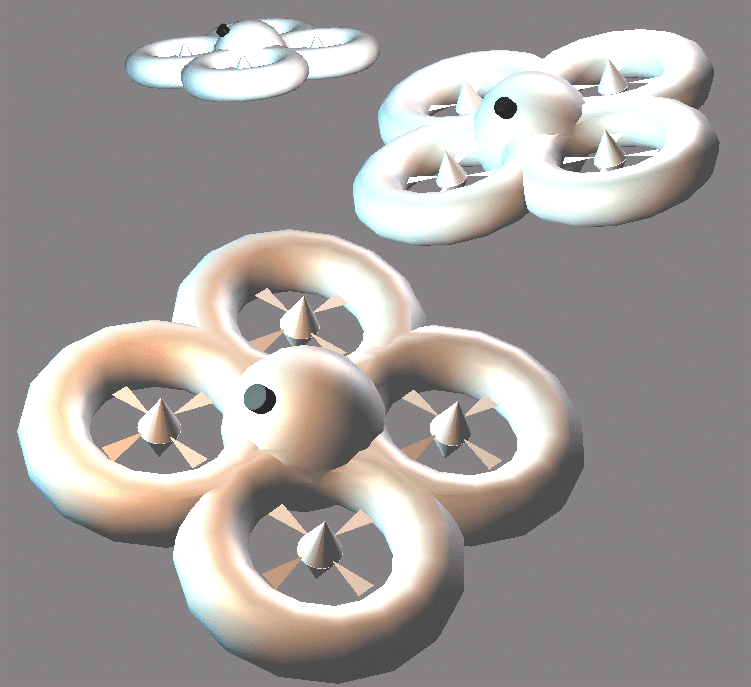 TrueSpace rendering of three Zero-G eyes in Donut shape.
The dome in the middle of the four ducted fans contains all the electronic parts as well as the micro camera.
---
Design study two: Spheres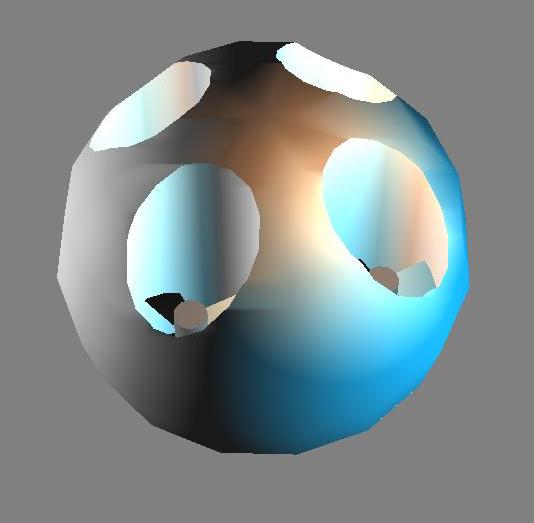 TrueSpace rendering of a Zero-G eye in sphere shape.
The four ducted fans are hidden in the fuselage, making the vessel more secure.
---

Related technical stuff: Free Flying Micro Platform.


---
Copyright © 1997-2004 by Stefan Marti and MIT Media Lab. All rights reserved.