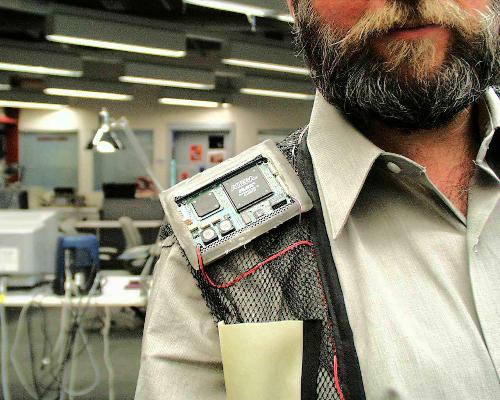 Steven J. Schwartz
Research Scientist 1998 - 2002
Visiting Scientist 2002
Massachusetts Institute of Technology
MIT Media Laboratory
Steven Schwartz
Turbogizmo, LLC
Centreville, Virginia
contact Steven J. Schwartz
Selected Research Projects






Scientific American Frontiers Interview with Alan Alda
MIT Media Lab Link to video You can also follow the link for "Astronauts" on the MIT web page for Prof. Alex (Sandy) Pentland
Scientific American Frontiers: You can Make It On Your Own. Never Forget a Face PBS transcript PBS Video: American Spacesuit





Link to Wearsat story on BBC: Intelligent space suits on the horizon

Link to Wearsat story from New Scientist: Wearable computer could rescue lost spacewalkers
Link to MIThril story on Slashdot: http://www.wearablegroup.org/news/2000/10/slashdot-iswc2000.html






Link to ISWC conference site 2001 in Zurich: http://www.iswc.ethz.ch/

Research Interests
C4ISR in Mobile Environments ( especially when using highly integrated wearable computing )

Selected Publications
The WearARM Modular, Low-Power Computing Core
P. Lukowicz, S. Schwartz, U. Anliker, R. DeVaul, G. Troster, IEEE Micro, May-June, 2001, 0272-1732

"Is There Space for Wearables?" Invited Keynote IEEE 6th International Symposium on Wearable Computers
S. J. Schwartz, J. A. Hoffman, E. Hodgson, P. A. Ronzani, Seattle, WA, 2002


Wearables in 2048, Steven J. Schwartz,
March 2001, Volume 44, Number 3 Communications of the ACM


I, PC. By Christina Wood.
Popular Science March 2002

Wearable Phased Arrays for Sound Localization and Enhancement
Sumit Basu, Steve Schwartz and Alex Pentland Presented at IEEE ISWC 2000 Abstract Only
The full paper is available from IEEE at: http://csdl.computer.org/comp/proceedings/iswc/2000/0795/00/0795toc.htm

M.I.T. Media Laboratory TR #504: The Smart Vest: Towards a Next Generation Wearable Computing Platform
Steven J. Schwartz and Alex Pentland (July 1999) 5/2000 Update to TR #504

US Patent 5,844,824
Hands-free, portable computer and system

Bio - Steven J. Schwartz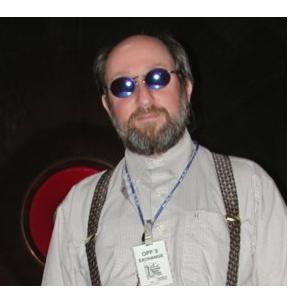 Steven J. Schwartz is a Senior Engineering Executive and Research

Scientist at the forefront of Computer, Communications
and Media technology. For over twenty-five years, He has been instrumental in the creation of many technical innovations
for the television and film industry and continues to pave the way for the emerging field of wearable computers.

Steven Schwartz held the notable position of Chief Video Engineer at Lucasfilm LTD, where he pioneered video editing
and music scoring systems for use in film and video production and designed key portions of the technical infrastructure
for Skywalker Ranch. Steve Schwartz recently held the position of Research Scientist at the Massachusetts Institute of Technology Media Laboratory and led a team of researchers to develop breakthrough wearable computing technology including the development of a novel solution for delivering high fidelity, hands-free visual information to Astronauts performing Extra-Vehicular Activities on the International Space Station.

In 2002 Steven Schwartz was among "30 R&D Stars to Watch" profiled by Industry Week Magazine and cited by the MIT News Office.

Steve Schwartz Work Experience


General Dynamics, Future Force Warrior ( FFW ) ATD 2003 - Present
Soldier Borne Systems - Integration Team Management

Symbol Technologies, Holtsville, NY 2002 - 2003
Senior Director - R&D

Massachusetts Institute of Technology, Cambridge, MA 1998 - 2002
Research Scientist - Media Laboratory

Xybernaut Corporation, Fairfax, VA 1994 - 1998
Vice President - Research

The Post Group, Hollywood , CA 1989 - 1992
Director of HDTV Research

Teleproductions Inc., New Orleans, LA 1986 - 1989
Director of Engineering

Lucasfilm LTD, San Rafael, CA 1983 - 1986
Chief Video Engineer


Excalibur Video Systems, Inc., Hollywood, CA 1979 - 1983
Vice President of Engineering

Encore Video, Hollywood, CA 1992

PIXAR, Richmond, CA 1993

Lightworks LTD, Hollywood, CA 1993

Kopin Corporation, Taunton, MA 1994
* Television, motion picture studio and post-production facility design, construction and management.
* Research and development of new technologies for video and film production and post production.
* Wearable computer design, prototype construction and manufacturing.
* HMD design, prototype construction and manufacturing.
* Product management for video and computer equipment manufacturers.
* Video, audio and film studio technologist.
* Producing, directing, editing, color correcting, post production supervision and designing visual effects.
* Sound system design.
* HDTV research and development.
Television Broadcast Engineering Program, Merritt College, Oakland, CA 1972-1974
Random Information

Interested in Travel, food and wine, automobiles, laughter

Birthplace

Hometown

Favorite Projects
EditDroid, Lucasfilm LTD.
Skywalker Ranch, Lucasfilm LTD.
Star Wars and other Motion Pictures, Lucasfilm LTD.
MIThril Project, MIT Media Laboratory
WearARM Project, ETH Zurich Wearable Computing Lab
Barksdale Air Force Base
DARPA ETO VGA Monocular HMD, Kopin Corp.
Wearable Computer rollout Comdex '94
SIGGRAPH '99 Emerging Technologies
IEEE ISWC 2002 Keynote Speech, Seattle, WA, October 2002
ACM1, San Jose

Consumer Electronics Show 2005 Supersession
WearSAT / ORLAN RF Susceptibility Test, in collaboration with NASA and Boeing, Energia, Korolev, Russia

Books most recently read

Would like to have dinner with
---
MIT Wearable Computing Intro Page
IEEE
International Symposium on Wearable Computing (IEEE ISWC 2005)
2005 Gadget Freak Brave New Wardrobe
Wearable computers: fashion trend of the future.
---
---