Emonic Environment
Improvisational Media Manipulation system by the emonic_collective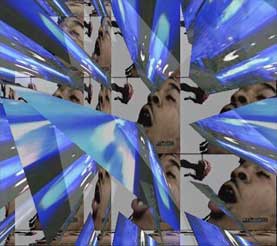 The Emonic® Environment is a system for improvisational creation, modification, performance, and exchange of audiovisual media.
The protagonist users of the Emonic Environment are non-artists,
whose creative drive has been impeded or narrowed down
by the existing interactive interfaces.
News
February 2006:
I completed my thesis - it is called Improvisational Interaction :: a Framework for Structural Exploration of Media. Happy reading.
September 2005:
Version 3 of the Emonic Environment has been released. It has video manipulation among many other new features. Consult the blog for more details or just download and play with it.
January 2004:
The Emonic Environment has recently been installed at the Centre Pompidou in Paris, France, as part of the Non-Standard Architectures exhibition (12.2003 to 03.2004). The installation was a collaborative effort between the Media Lab and the SERVO architectural collective. On MIT side, Winslow Burleson, Assaf Biderman, Rebecca Luger-Guillaume, and myself took part. SERVO collaborators were David Erdman, Marcelyn Gow, Chris Perry, and Ulrika Karlsson. We thank Glorianna Davenport and the MIT Council for the Arts for their financial support and our French and American friends for making this an unforgettable experience.
Summary
Since 2000, the Emonic Environment allowed its users to deal with information in a way previously unseen in the domain of multimedia, bringing multi-user networked improvisation, exchange of improvisational structures and their application to the existing media, evolutionary control of sample-based environments, and more to everyone's desktop.
You are welcome to download the software, as well as read about the computer requirements in the Download section. The software is by all means experimental; as such you will discover functions that don't work, and sometimes it won't do exactly what you expect. Sometimes this is a genuine bug; at other times it's behaviour by design.
You might have some general questions, and we urge you to contact us with your comments and critique. Before doing so you might check the following three sections: the FAQ, for general high-level questions; the User Manual, for a description of how to operate the Emonic Environment; and the Publications, for a more in-depth look at the vision behind the Emonic Environment, its technical implementation details and the future directions of its development.
If you feel strongly about the project (or some of its parts), and think you might be able to help, we might need you. We have openings for UROPs as well as volunteers. If you are from outside MIT you are welcome to volunteer. We are always looking for creative thinkers, who are interested in and can contribute to any of the following: evolutionary algorithms, audio synthesis, video manipulation and computer graphics, audiovisual information retrieval, as well as graphic and industrial design.
For easy navigation of this site, please use the menu on the top.
Enjoy,
- the emonic collective
Screenshots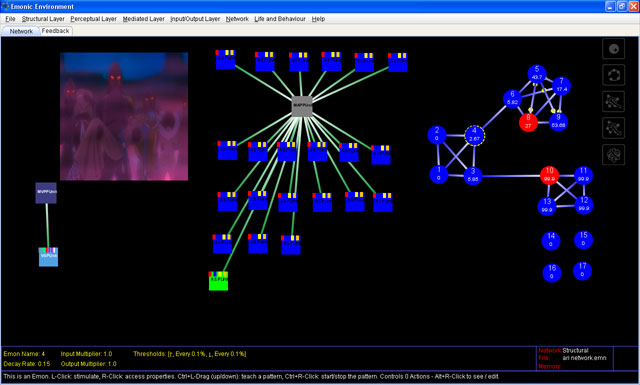 Resulting Samples
[based on original samples] [based on pieces by others]