portfolio
vitals
christine m. liu
me at cmliu.com
cmliu.com
background
christine's
(most up-to-date)
christine's résumé [pdf] (as of Sept 2006)
---
projects
urbanhermes
june 2005 - august 2006 [project website]
urbanhermes is an augmented messenger bag that aims to incorporate the fluid, expressive signals of electronic fashion into the constrained, material-based environment of physical fashion. the bag is able to change its dynamic, temporal display within the context of its social environment, providing versatile means for face-to-face signaling. by accelerating the physical fashion cycle, urbanhermes facilitates more meaningful and communicative representions of self-identity.
seamless: computational couture
may 2005, feb 2006, feb 2007 [project website]
co-production with nick knouf and lisa monrose
seamless is a fashion event featuring innovative and experimental works in computational apparel design, interactive clothing, and technology-based fashion. each project [re]interprets the conceptual goal of a seamless relationship between technology and fashion. these are real clothes that inspire and provoke.
seamless features original fashions created by students of MIT, RISD, Parsons, and NYU; plus young designers from Boston, New York, Seattle, and Cleveland. The fashion show displays innovative and experimental works that reinvent how we think about clothing and the body. The designs approach this reinvention with an array of perspectives that include the physical, psychological, social, technological, political, educational, and aesthetic.



pictured: urbanhermes (the ripstop collection)
photo credit: james patten
toast 'n' roast
feb 2006 [collisionNINE catalog]
28-gauge nichrome
sized to fit a small pair of adult hands
toast 'n' roast are mittens, a familiar and comforting winter accessory, that are hand-knit with nichrome heating wire. as powered sculptures, they emit palpable, painful heat. toast 'n' roast raise several implications, including: the difficulties of technological clothing (physical or psychological discomfort of electronic textiles on our bodies); the embodied human warmth of handcrafted objects; and the technological complication of these 'functional objects' (they offer warmth) that are very much dysfunctional for their apparent purpose.
fabrication per specification
dec 2005 [project website]
we know how much you treasure the imperceptible qualities of clothing: the stories woven within the fabric, so to speak. you will always treasure your first concert t-shirt, your 'first-date' sweater, or your favorite jeans. wearing your favorite clothes makes them a part of you, and over time and experiences and people, your memories and stories are embodied within. what we bring to you are clothing distinctively constructed with memories and stories, a narrative which you design, receive, wear, and become.
to view executed narratives, please use 'berrytart' and 'pumpkinpie' as customer codes.
au courant
may 2005 [project documents]
Development of constructional tools—design software, modular kits, extensible templates, intelligent fabrication machines—and implementation of distribution mechanisms—digitally augmented physical networks, on-demand production, and independent circulation—linger as the primary catalysts for democratising clothing fashions. Only when communication channels seamlessly unite with content delivery, as with current support for acquiring, personalising, and sharing digital music, can the knowledge infrastructure for clothing fashion support the user's desire for ownership control. As music has benefited from the digital flexibility of technology, with a crafty combination of invention and exposure, clothing shall as well.
mollycoddle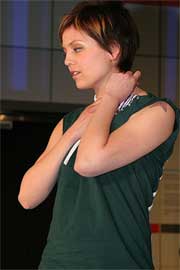 may 2005 [project description]
Mollycoddle is a dress with a hunger for love and attention. Its wearer needs the dress for obvious (coverage) or nonobvious (personal) reasons, and in turn, the dress needs the wearer. Mollycoddle wants to be touched and caressed by the wearer on a semi-regular basis, but it can be happy being touched by other people, too.
The dress is sort of an externalisation of the wearer's need for affection and attention. If the dress doesnt get touched or hugged in a while, it gets lonely, and the same goes for the wearer. If tHe dress doesnt get loved enough, it gets needier and starts squeezing the wearer, begging for a touch or two. It will send vibrations as well. First it's a little huggy-plead which gets more aggressive with time. If its begging is ignored the thing will squeeze you to, ostensibly, death.



photo credit: doug eng
flickerminick
dec 2004 [project website]
Flickerminick is a jittery fabric jellyfish that contains fans to inflate and deflate the body, tentacles which twitch with stepper motors, LEDs that modulate the creature's colour from bright white to soft purple with each breath, electroluminescent wire and IR transceiver to ensure that you get stung if you get too close.
DRIP
dec 2004 [poster]
collaboration with nick knouf, francis lam, and jeffrey nordrum
Drinking Real-time Information Protocol is a framework for the display, consumption, and sharing of digital information by infusing liquid with digital bits. Today, the process of information acquisition is integrated into our everyday lives, while the process of information sharing has become more distant and impersonal. By merging the affordances of beverage containers and digital information, we aim to bring back the social component of face-to-face information sharing while also creating an environment for serendipitous interactions to occur.
sans serif
nov 2004 - now [show website]
weekly radio production on wmbr 88.1 fm
a refreshing little icebox filled with modern-flavored treats. on the menu: intelligent dance music, downtempo, remixes, electro, dub, ambient, house. sample and savor; best serve chilled.
---
graphic design
MIT.edu
2005 - present
spotlight designs for the mit homepage
2005.05.20 • 2005.07.05 • 2005.07.09 •
2005.09.10 • 2005.09.20 • 2006.01.31 •
2006.02.01 • 2006.03.23 • 2006.06.18 •
2006.06.19
Harvard-Radcliffe Orchestra
2002 - 2004
concert posters for HRO
Freelance
2000 - present
past clients include: boston refugee youth enrichment summer program, the harvard advocate, harvard brahms society orchestra, harvard early music society, harvard project for asian and international relations, harvard student agencies, MIT edgerton house
---
writing samples
decor8
I'm completely smitten with these dining accessories by neutrino designs. The clean white lines and simple silhouettes of the pieces are adorned with sporadic geometric details, bold and delicate in fine-tipped orange. At once mod, scientific, and abstract, the design of the series wins on so many levels.
Miles and miles of designer jean'd, pointy-toe shoe'd, handbag'd women! Ok, maybe not miles, but there was a definite queue in the unseasonably chilly evening air. You could feel the anticipation in the small talk, everyone nervously stamping their feet and subtly eyeing the leather jacket of the woman next in line. Was the atmosphere instigated by the waiting in the cold, or because they all were plotting a bee-line strategy to get first picks at the True Religion denim? You weren't quite sure...
bliu blog
i have to admit, i was feeling a wee bit challenged seeking out well-dressed conference attendees on the second day of festivities. perhaps everyone had already vested their best on the first day? was this really the sad truth? i scoured the field, staring quite intensely (though may have appeared strangely) down hallways and up escalators, through the rose-coloured lenses (and fuschia-tinged windows) of the palais. my eyes blurred through the endless parade of nondescript apparel.
i would say his stuff could fit into either of two categories: pretty and boring, or bold and garish. the clear exceptions were the gorgeous dresses in the dyed green flowy fabric. the pleated one had wondrous movement as heather twirled at the end of the runway, the folds of fabrics enveloped feather-light. however, you have to admire his honest, raw passion. i secretly liked the leather bits adorning the bustlines of the dresses, it created a tough-girly-girl image.